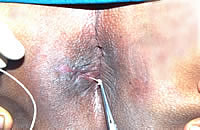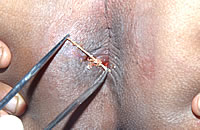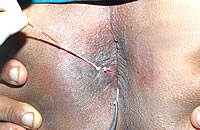 INFORMATION :
The word Kshara means specially prepared alkal from the herbs and Sootra means the thread. Thus the thread which is coated with certain specific medicine is called Ksharasootra.
The Ancient Indian surgeon Maharshi Sushruta has advocated this Ksharasootra treatment for piles, Fistula, Cyst, Tumor, Sinuses etc. which has been scientifically prepared and introduced by Prof. P. J. Deshpande et al.
Material used for preparation of Ksharasootra :
Barber linen thread No. 20

A) Latex of Snuhi i.e. Euphorbia Nerifolia

B) Kshara of Apamarg i.e. Alkali Extracted with special methodology from Achyranthus Asperagus.

C) Haridra – Curcuma Longa.
NO. OF COATINGS :
Usually total 21 Nos. of coatings done of above mentioned herbs as below.
11 coatings of plain latex of Snuhi

7 coatings of snuh + apamarg kshara

3 coatings of snuhi + haridra
ADVANTAGES :
Day Care Procedure

Negligible recurrence rate in Fistula-in-Ano

No permenant incontinence for flatus, faces etc.

Very useful in pilonidal sinus

Large no. of ANo/Recto vaginal fistula also has been treated.

Also useful in perivulvular and various other type of sinuses.

Economical
CONSEQUENCES OF TREATMENT :
Changing of Ksharasootra once a week

Increases the quantity of pus discharge

Little pain on the day of the changing of the thread, normally relieved by seitz bath and pain killer.
CONCLUSION :
At present this is the most popular treatment amongst the people and few of the whole hearted and open minded surgeons because of it's very high success rate and no incontinence.